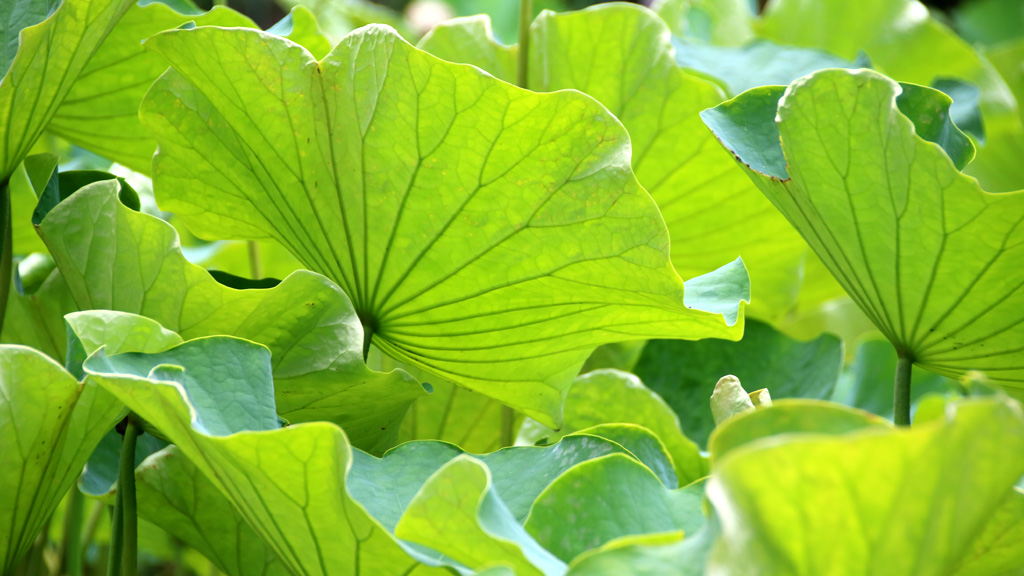 A LOTUS FOR THE FUTURE
Inspired by the leaves of the lotus flower, the Lotus collection grows in the Smart Cities of the future to generate lighting in an eco-sustainable way, obtaining from the sun and the wind the energy necessary to work. The steel structure with variable sections accommodates photovoltaic leaves on top of 1.5 sqm capable of generating 200 W each, with vertical axis wind turbines in carbon fibre.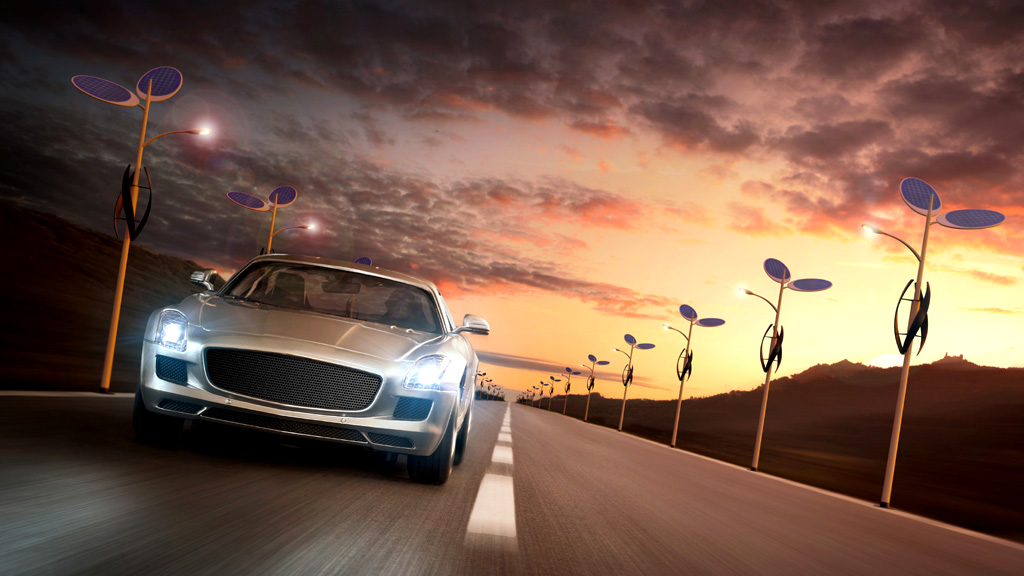 SMART STREET LIGHTING
With the Lotus collection, you can have a smart street lighting system using solar and wind energy. The 360° adjustable leaves allow the maximum possible sunshine to be obtained in all locations. The wind turbine also generates energy at night.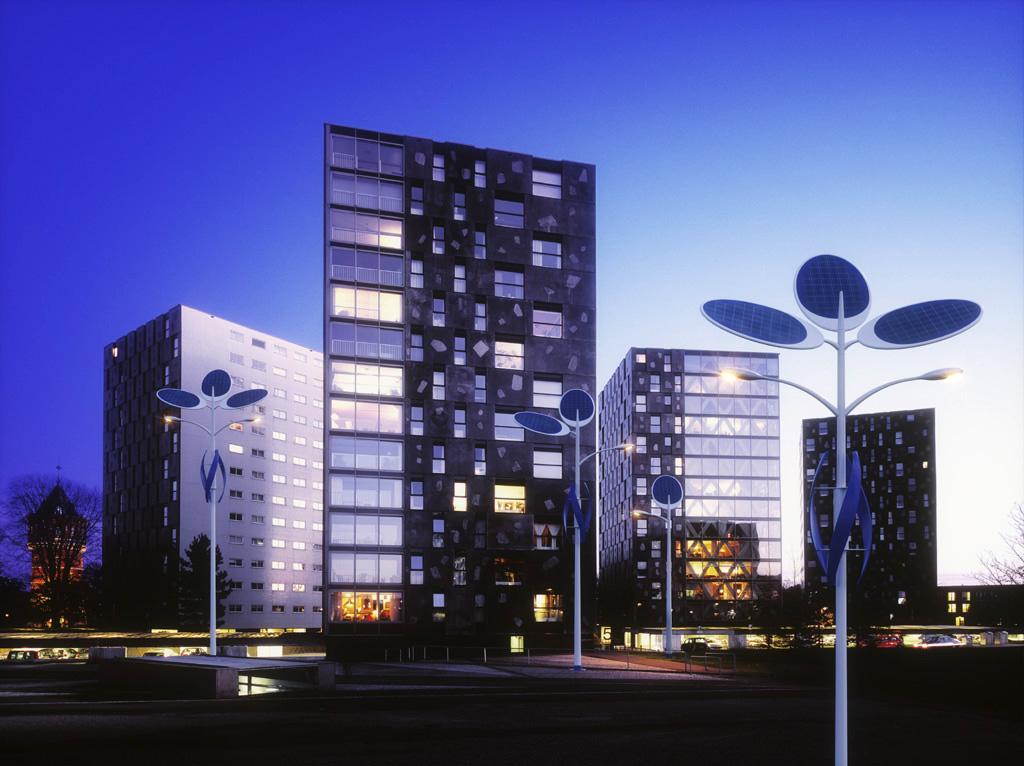 Lighting is guaranteed by high power LED lamps with specific concentric lenses. In addition, an HD camera is integrated in the body for video surveillance. The pole becomes smart, thanks to the large optional touch screen display. Perfect for communicating tourist and advertising information, as well as for recharging smart phones.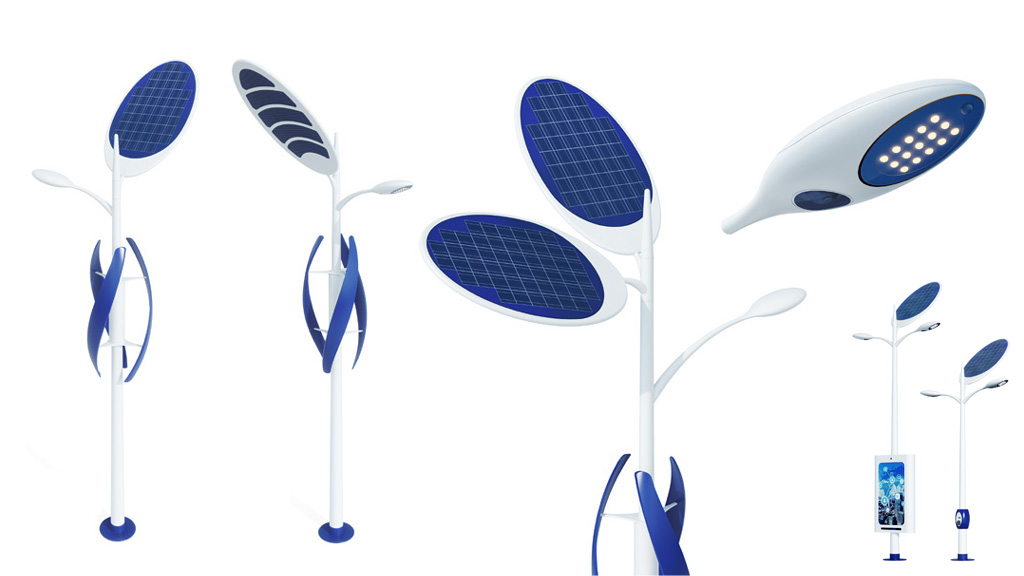 LOTUS SMART LIGHT TOWER
The four-leaf clover light tower of the Lotus Collection can generate up to 2kW of power from the sun, using four large photovoltaic leaves. The vertical axis wind turbine can also generate up to 1.5kW at night. Lighting is guaranteed by four high power LED lamps with specific concentric lenses. In addition, HD cameras are integrated in the bodies of the lamps for video surveillance.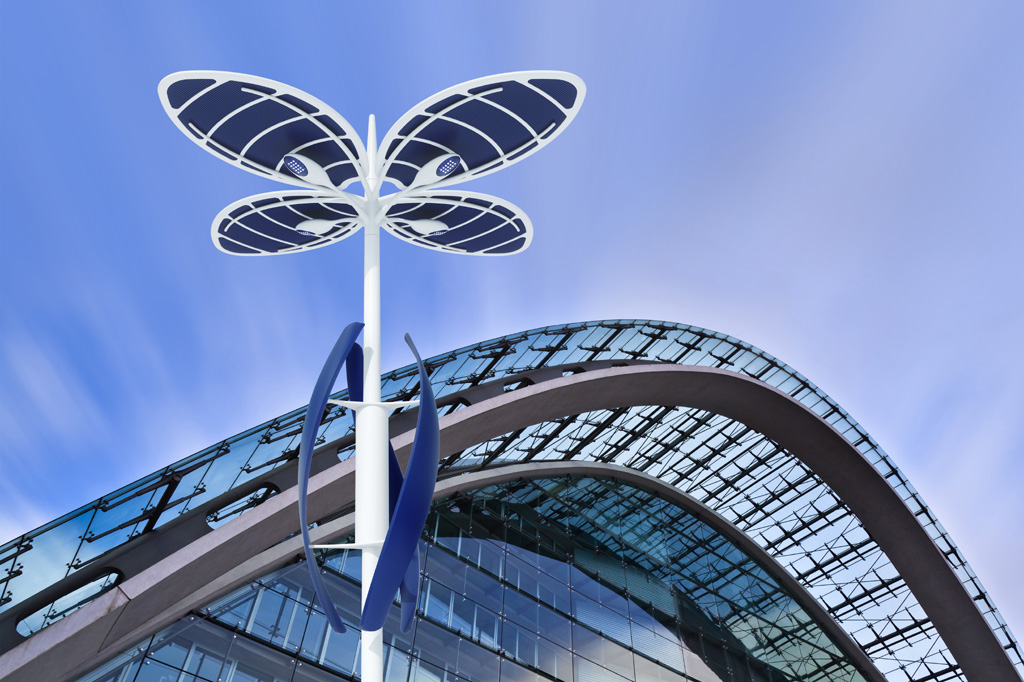 SOLAR-POWERED MODULAR SHELTERES
The Lotus collection photovoltaic canopy system has been designed to be self-sufficient and modular, so as to assume different configurations: small single leaf, double leaf, cloverleaf and medium and large leaf, for electric car or e-bike parking or charging stations.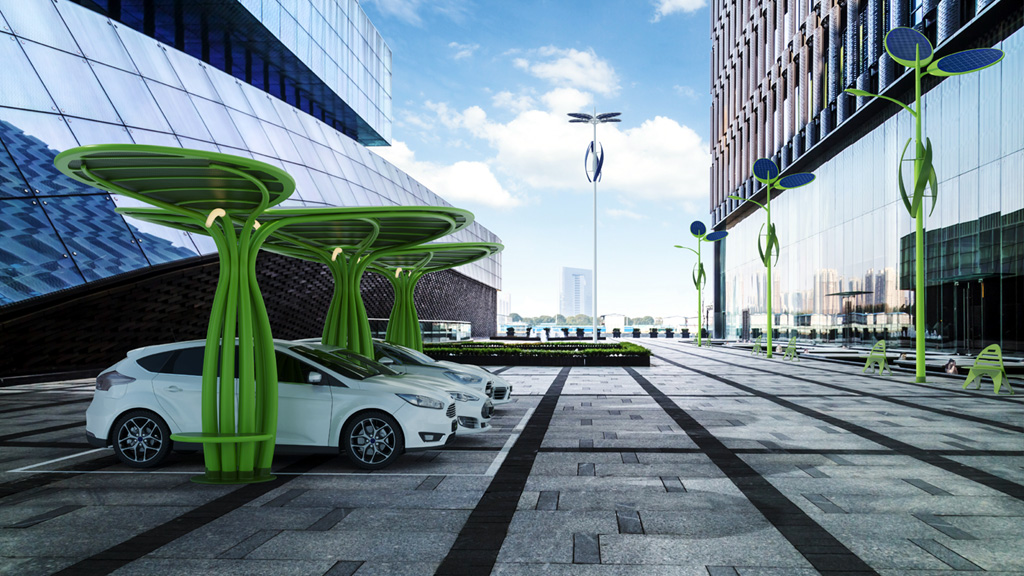 TECHNOLOGICAL TREE
The 2kW cloverleaf Lotus shelter is the ideal solar-powered solution for the public parks of the Smart Cities of the future, an evocative break in the greenery, under a "cloverleaf" that is perfectly integrated with the soul of the park, keeping the perception of being in contact with nature intact. Comfortable circular benches and lighting independent of the public electricity grid.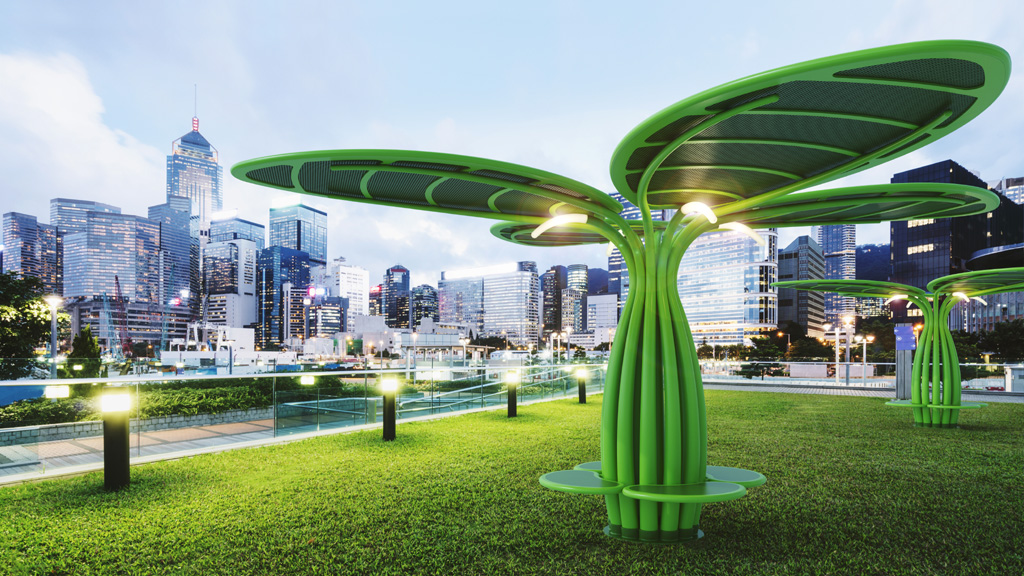 SOLAR-POWERED ADVERTISING SYSTEM
Here, thanks to a sophisticated 360° LED Video Display system, Lotus becomes a futuristic communications totem. A cylindrical outdoor display, diam. 195 cm and h.135 cm can be installed on every Lotus – Quatrefoil of 2 kW. The resulting highly impacting advertising space has real-time wireless updating and is ideal for road roundabouts, airports, railway stations, shopping centres, museums or exhibition locations.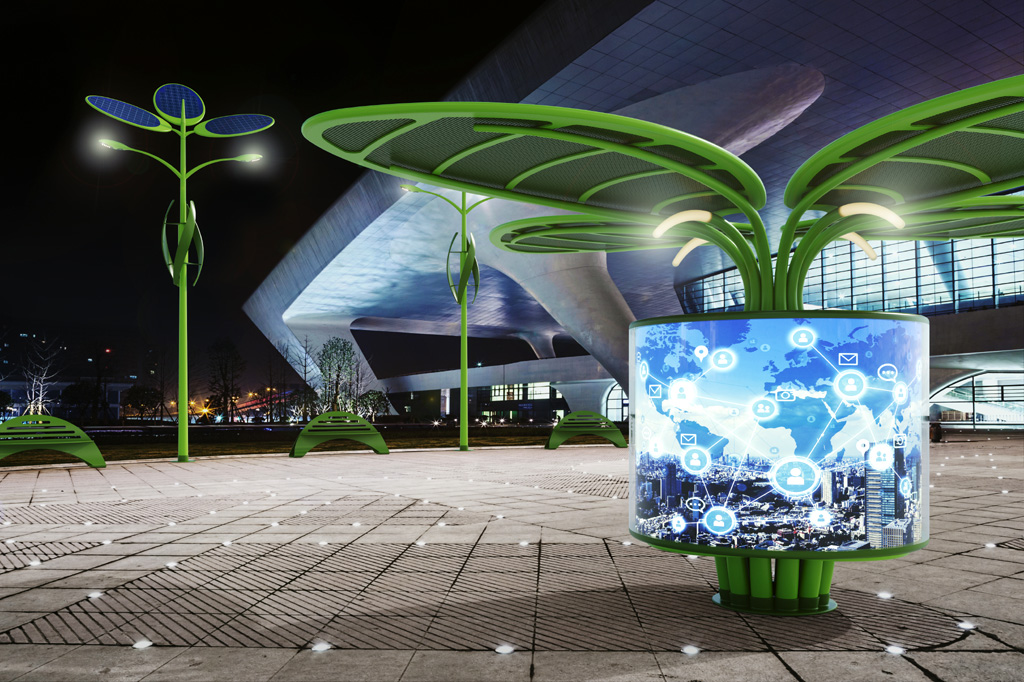 LOTUS SMART BUS STOP
Here the Lotus eco-furniture system is also a sculpturally intriguing bus shelter. The 8.7 sqm (500×220 cm) photovoltaic shelter can generate 1.2 kW. The large oval central element (400×200 cm) also contains comfortable eco-plastic seating together and an extensive area containing a LED 16/9 (220×120 cm) screen able to host advertising or local information, with real-time wireless updating.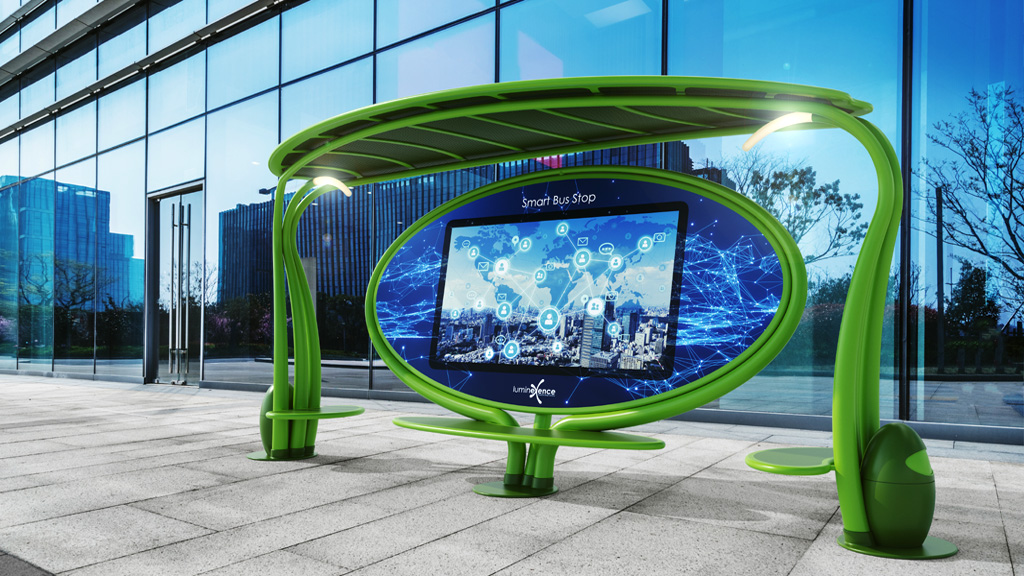 SOLAR-POWERED CARPARK
By alternating small and large leaves of the Lotus Collection photovoltaic canopy system, it is possible to create an elegant eco-sustainable car park that generates energy from the sun, with small leaves of 500 W and large leaves of 2.8 kW. In addition, after installation it is also possible to position charging points for electric cars, complete with info point touch screen.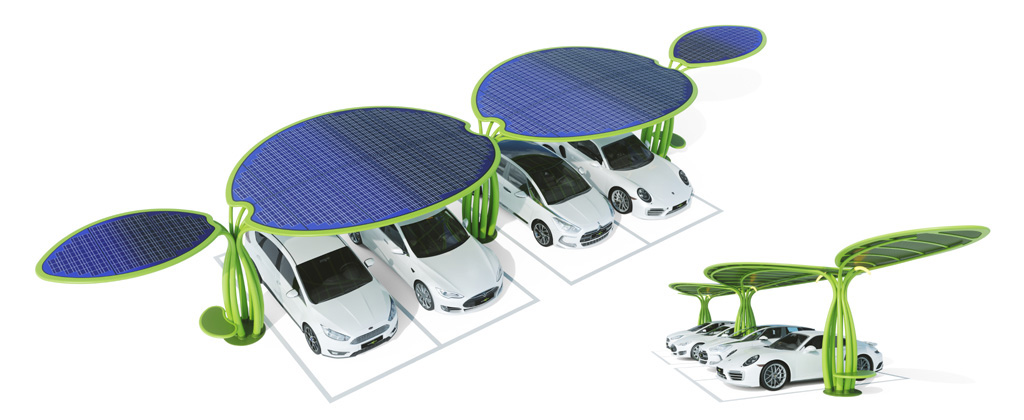 LOTUS SMART CHARGING LEAF
The centralised system means each parking space is equipped with two water-tight sockets SCAME for recharging electric cars in slow and fast way. The recharge can be paid electronically with a cashpoint or credit card. A large 19 inch touch screen allows, in addition to the car's recharge status, also tourist information, traffic and advertising.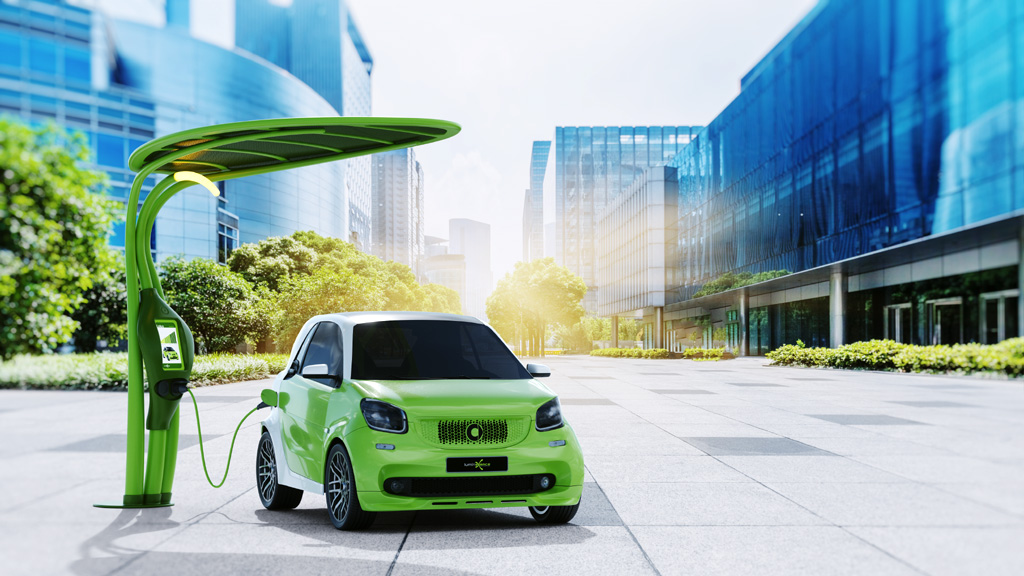 LOTUS E-BIKE RECHARGING STATION
Here the Lotus system is also an amusing and functional electric bike recharging point. Its 8.7 sqm (500×220 cm) photovoltaic shelter can generate 1.2 kW. The six "bud" bike docks are the perfect design solution for recharging and parking individual E-bikes. A special electronic system means top-ups can be paid by cash point or credit card.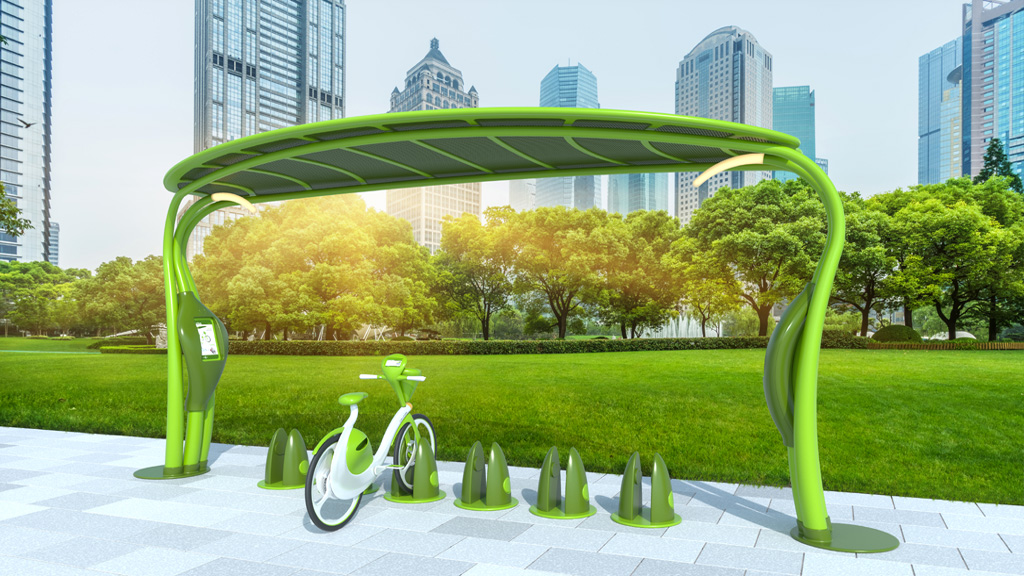 LOTUS E-BIKE
Lotus is also an innovative eco-sustainable, pedal assisted electric bike sophisticatedly designed. The main aluminium structure is just one single curve starting from the front of the bike, to incorporate the pedals at the centre, before enveloping the back wheel concealing the integrated battery and the brushless BionX electric motor, which finally ends below the comfortable saddle. The maintenance-free cardan shaft transmits pedaling power accurately and silently. The large LED touch screen display also gives information on charge status, road systems and conditions and the nearest Lotus recharging points. A highly intuitive system and maximum comfort are the happy result of its extremely ergonomic shape and practical storage containers.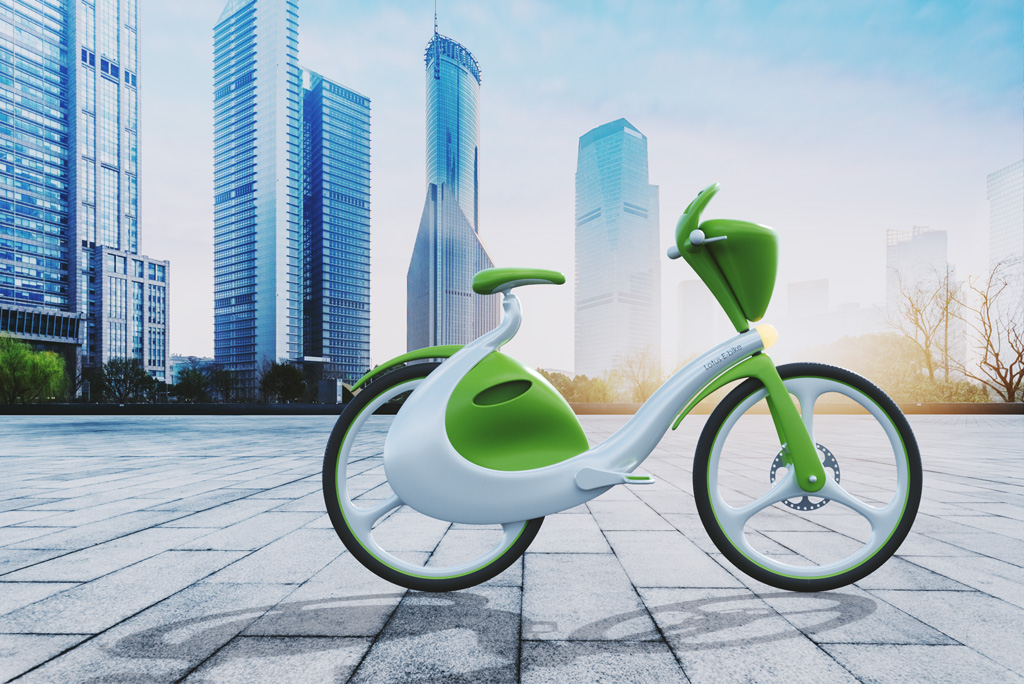 LOTUS SEATING
Inspired by lotus flower leaves, the Lotus collection of benches is expanding in the Smart Cities of the future to generate single and double seats with a pleasant organic design and infinite chromatic possibilities, with cuts to avoid stagnation from rainwater. Size L. 200cm W. 85cm H. 42cm